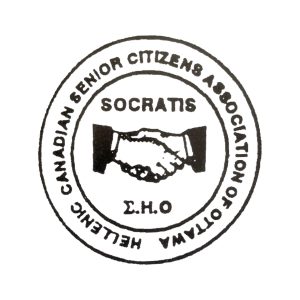 Senior Citizens' Association of Ottawa "Sokratis"
—
Σύλλογος Ηλικιωμένων Οττάβας «Ο Σωκράτης»

The Senior Citizens Association of Ottawa "Socrates" was founded in 1995 on the initiative of George Kanellakos. Its first President was Antonios Sartzetakis.
The objectives of the association are to:
Rally its members around the Hellenic Community of Ottawa and offer them moral support.
Organize multiple events and activities in order to give the opportunity to its members to meet and socialize.
Support the programs of the Hellenic Community of Ottawa.
Since 2000, the association has its own premises on the lower level of the Hellenic Event Centre, where members gather and socialize. It is a space designed for senior members of our Community and operates daily, except Sundays. It is a place where members can spend time with friends watching Greek television and socializing in a warm, familiar, friendly and "very Greek" atmosphere.
—
Ο Σύλλογος Ηλικιωμένων Οττάβας «Σωκράτης» ιδρύθηκε το 1995 με πρωτοβουλία του
Γεώργιου Κανελλάκου και με πρώτο πρόεδρο τον Αντώνιο Σαρτζετάκη.
Οι στόχοι του συλλόγου είναι:
να συσπειρώνει τα μέλη του γύρω από την Ελληνική Κοινότητα Οττάβας και να τους προσφέρει ηθική υποστήριξη.
να διοργανώνει πολλαπλές εκδηλώσεις και δραστηριότητες προκειμένου να δίνονται ευκαιρίες συναντήσεων στα μέλη.
να υποστηρίζει τα προγράμματα της Ελληνικής Κοινότητας Οττάβας.
Το 2000, σε χώρο που παραχώρησε και διαμόρφωσε η Κοινότητα, ο σύλλογος απέκτησε τον δικό του χώρο συγκέντρωσης, την Εστία Ηλικιωμένων που λειτουργεί καθημερινά, εκτός Κυριακής. Η Εστία συγκεντρώνει μεγάλο αριθμό μελών τα οποία περνούν ευχάριστες ώρες παρακολουθώντας ελληνικά τηλεοπτικά προγράμματα μέσα σε ένα οικείο, ζεστό, φιλικό και, ιδιαίτερα, «ελληνικό περιβάλλον.