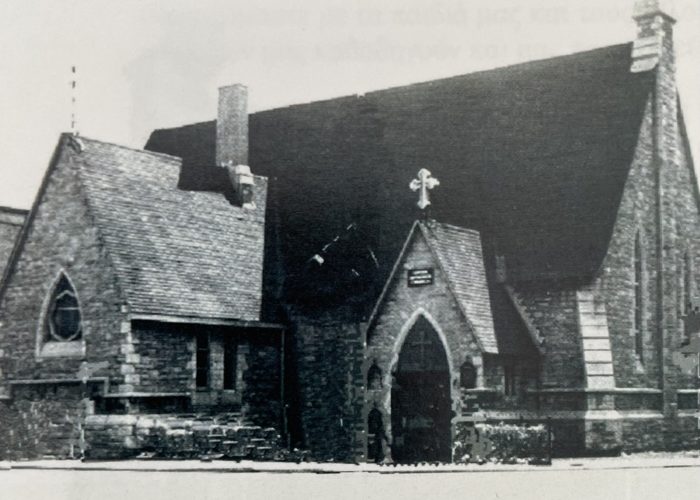 History of the Dormition of the Virgin Mary
Greek Orthodox Church
In 1943, George Stamos (1943-1948) was elected President of the Hellenic Community of Ottawa. In 1947, during his term of office, the Community rented the Apostolic Catholic Church at 360 Albert Street (corner of Albert and Lyon Street; today known as "Constitution Square") for $20 a month. This Church became the first Greek Orthodox Church in Ottawa known as "Kimissis Tis Theotokou" (Dormition of the Virgin Mary) and it served the congregation for over 25 years. In the early part of this decade, the Hellenic School (1941), the Sunday School (1942), and the Church Choir were established under the direction of Fr. Demeroutis.
During the 1970s, the HCO began work on building a new and larger Church to accommodate the large number of Greeks who continued to settle in Ottawa. A Building Fund Committee was established; chaired by Nick Pezoulas.
Paul Mefsut (1971-1974) was re-elected President of the Community, and on September 25th, 1972, the old Church (Albert and Lyon Street) was sold for $175,000.
Οn April 30th, 1973, another piece of land on Prince of Wales was purchased in the south side of the existent property for $48,500.
In the spring of 1974, a successful fundraising dinner was organized with Nick Pezoulas as a chair. On March 31st, 1974, the General Assembly unanimously approved the architectural plans prepared by the Architect and Engineer Constantinos Zourdoumis who would also go on to design the St. Elijah Lebanese Orthodox Church in Ottawa (Riverside Road).
On Palm Sunday,  April 7th, 1974, in the presence of many members and the newly elected Bishop of Canada, Sotirios of Konstantia, a ground breaking ceremonyof the new Church took place. Father Philip Ramphos was given a silver shovel and he turned the first spade full of earth. Constantinos Zourdoumis provided both architectural and structural plans at no cost to the Community. As a Civil Engineer, Anastasios Varaklis undertook and completed the entire construction of the new Church keeping costs within the budget approved of $450,000. He did this by donating his time, expertise, and an unending supply of materials and supplies. The building was ready in early spring of 1975. The Iconostasis from the old Church was installed and on Palm Sunday, April 27th, 1975, the first Divine Liturgy was celebrated in the new Church.
By the end of this decade, the Iconography of the Church which included the Iconostasis, Pantocrator and Platytera was completed. The Bishop's Throne (Despotikon), the Amvon, and the Epitafios were also purchased.