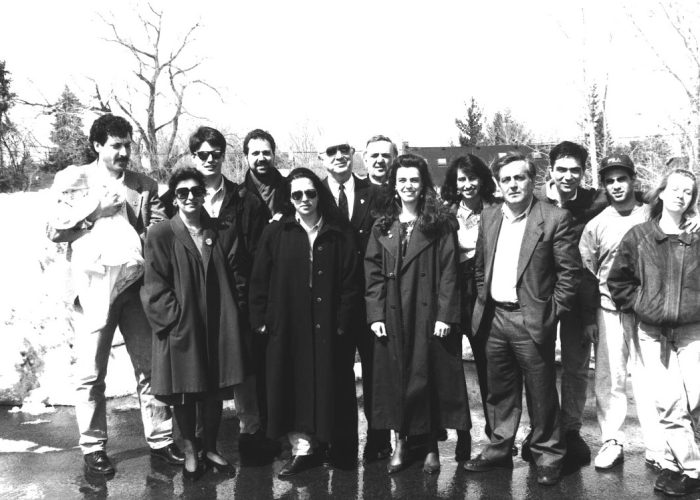 Hellenic Community of Ottawa Theatrical Group
—
Θεατρική Ομάδα Ελληνικής Κοινότητας Οττάβας
The Theatrical Group of the Hellenic Community of Ottawa was formed on February 1989 with the initiative of the Hellenic School of Ottawa Principal and teachers and the full support of the President and the Community Council at that time.
It was made up of teachers from the Hellenic School of Ottawa, alumni of the School, and other HCO members.
The Group performed has performed the following plays over the years:
"Spanking came from Paradise" in Ottawa and Kingston
"The Court of Miracles" in Ottawa and Belleville
"Me, Myself and I" in Ottawa and Montreal
"Midas Touch" in Ottawa
"Kounenes – Mama's boy" in Ottawa
——
Η Θεατρική Ομάδα της Ελληνικής Κοινότητας Οττάβας ιδρύθηκε τον Φεβρουάριο τού 1989 με πρωτοβουλία του Διευθυντή και ορισμένων δασκάλων του Σχολείου και με την αμέριστη συμπραράσαση του Προέδρου και του Διοικητικού Συμβουλίου της Κοινότητας.
Μέλη της Ομάδας υπήρξαν δάσκαλοι, πρώην μαθητές και μαθήτριες του Σχολείου καθώς και μέλη της Κοινότητας.
Από την ίδρυσή της και μέχρι σήμερα η Θεατρική Ομάδα έχει ανεβάσει τις ακόλουθες θεατρικές παραστάσεις:
«Το ξύλο βγήκε από τον Παράδεισο» στην Οττάβα και το Κίνγκστον
«Η Αυλή των Θαυμάτων» στην Οττάβα και το Μπέλβιλ
«Ο εαυτούλης μου», στην Οττάβα και το Μόντρεα
«Ο Μίδας έχει αυτιά γαϊδάρου» στην Οττάβα
«Κουνενές» στην Οττάβα